Why Your Holiday Campaigns Need Social AR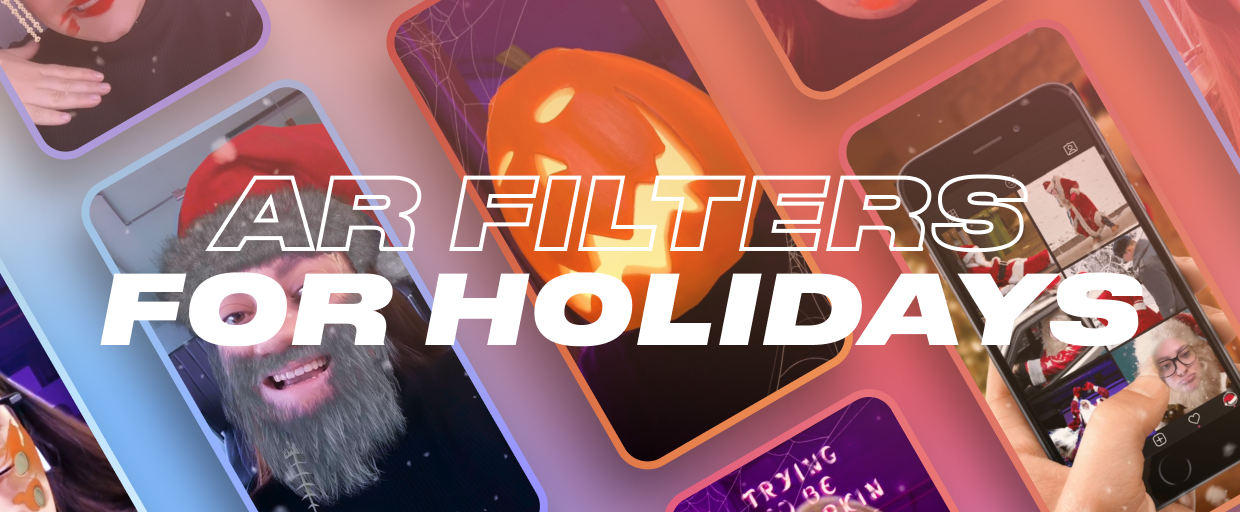 Since 2019, Instagram has allowed the use of IG effects, which help users to interact with augmented reality. AR filters for Instagram allow users to add interesting video effects to a real image and publish it in Stories. This tool has attracted brands that have figured out how to successfully use AR in general and popular augmented reality trends to entertain their customers and draw attention to their products.
Using AR Filters for Marketing Purposes
The creation of viral content has long been recognized as one of the most successful solutions for promotion on social media. But with the advent of AR campaigns, the concept of what promotions on Instagram are has expanded a lot. Filters have become a powerful social marketing tool, and the main thing is to learn how to use them correctly for organic promotion. Let's start by breaking down some of the most popular questions about using your filter on Instagram in the most effective way. This will help you to understand better how to use AR filters efficiently and to their full potential in your Holiday Campaigns .
If you are already familiar with how to use AR filters, what types are there and where to look for analytics of your filters, we advise you to go straight to the heading ‍Successful Examples of Holiday Filters in Marketing
How will a user find your filter?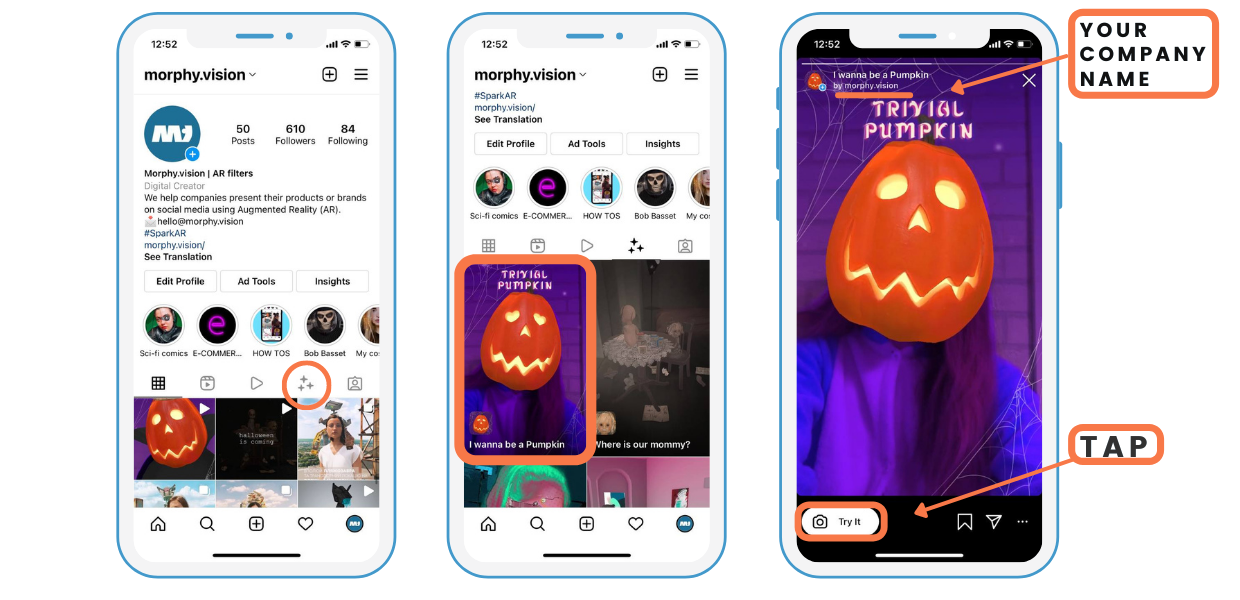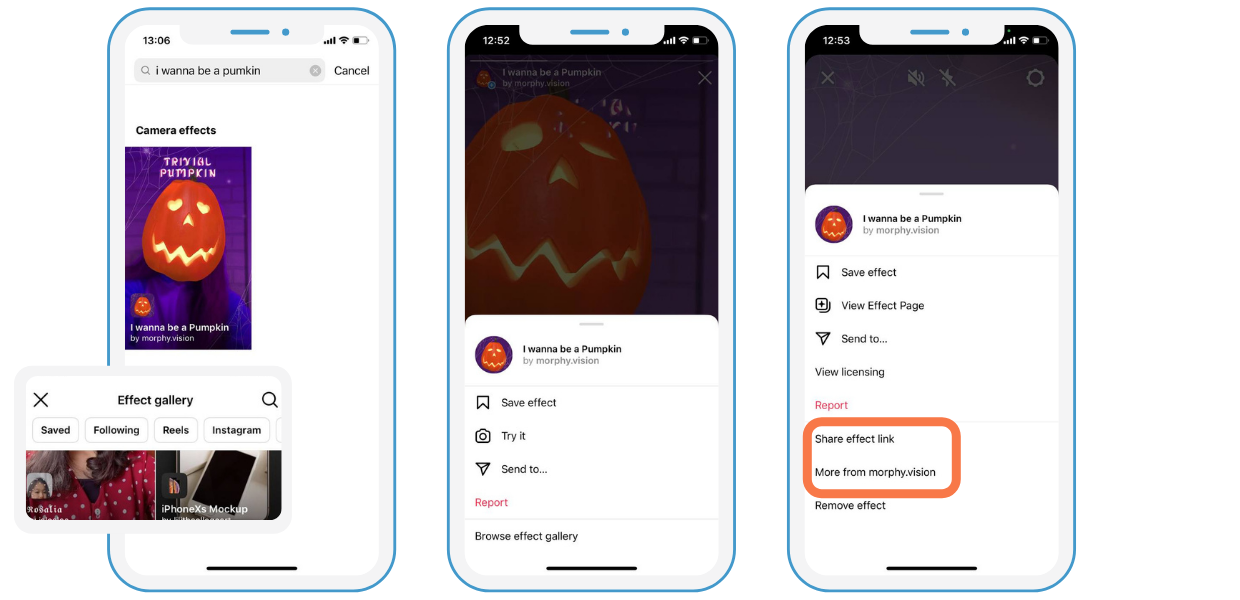 – On your company's profile on Instagram. You can also add instructions on how to use them to the highlights.
– Via the link attached to the filter. This link can be seen at the top under the name of a blogger or friend who uses the filter and publishes it in stories, posts, or reels.
– Via the link shared by someone on social media.
– In the gallery of effects where the user is looking for new filters to diversify content.
– On Instagram maps, where the location is selected.
Everyone who records their videos will be able to see the effect and try it. If they publish this material on their pages, and their audiences will like the filter, other users will be able to click on the name of the filter and try it for themselves. This sets off a chain reaction that makes the IG effect go viral.
The Most Popular Types of Filters
The most attractive thing about Instagram filters is the establishment of friendly relations with clients and buyers. Apart from the entertainment function, holiday filters for Halloween, New Year, or the season of discounts should achieve a very specific goal: to acquaint with the brand, its features, or specific goods and services. Choose the type of filter based on the range of tasks that you need to solve.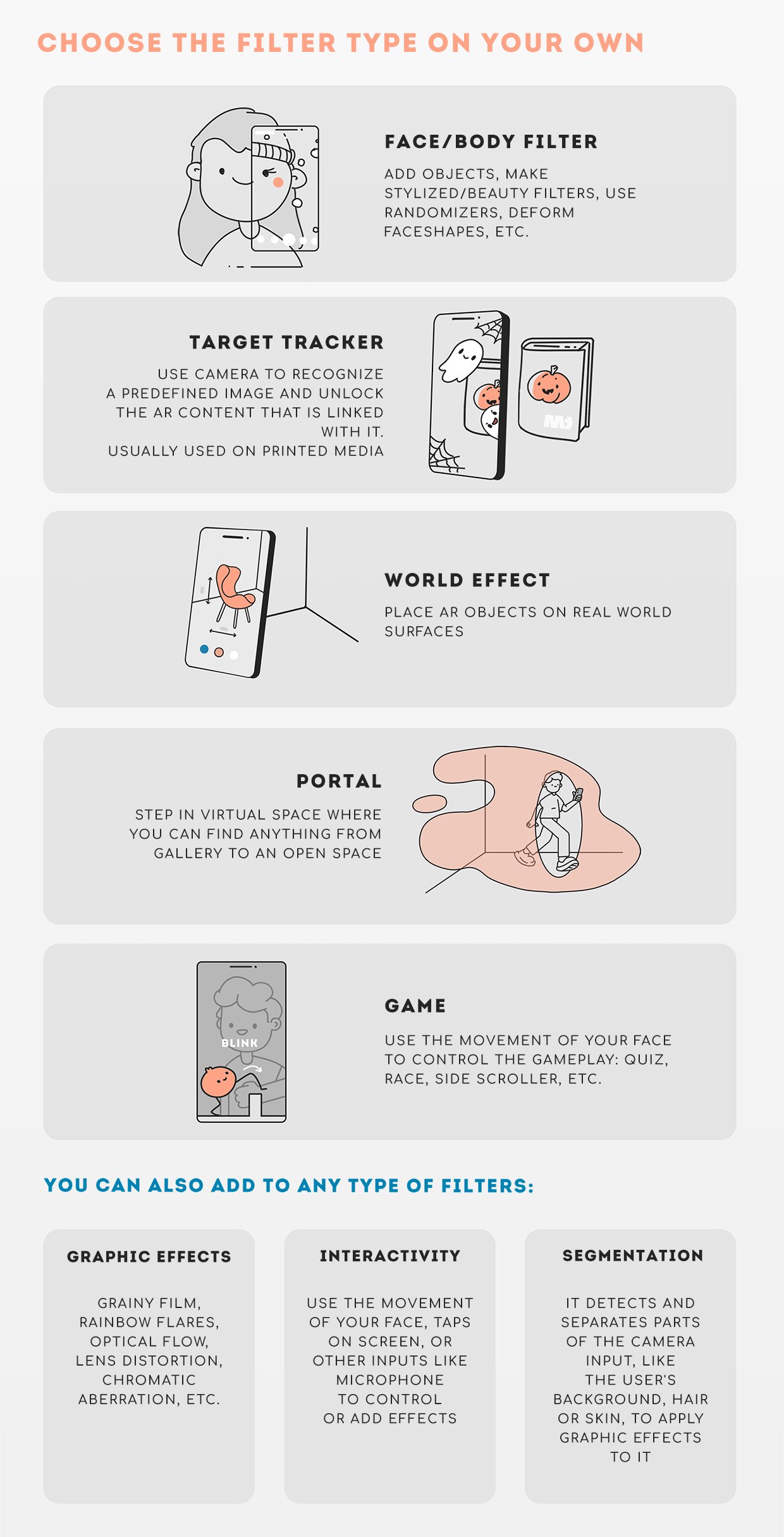 Each activity pursues its own goal. So, before choosing one or another filter, answer the main question: why should your brand develop a filter?
This is how you will understand the type of filter you need. More about the most popular Instagram effects categories in our Blog.
How do you track performance?
In your Spark AR Hub, you will see detailed statistics about your AR filter for IG/Fb: impressions, openings, captures, the number of those who shared the filter on their page, demographic data (gender, age, country), etc. Based on this information, you can judge the profitability of a marketing campaign.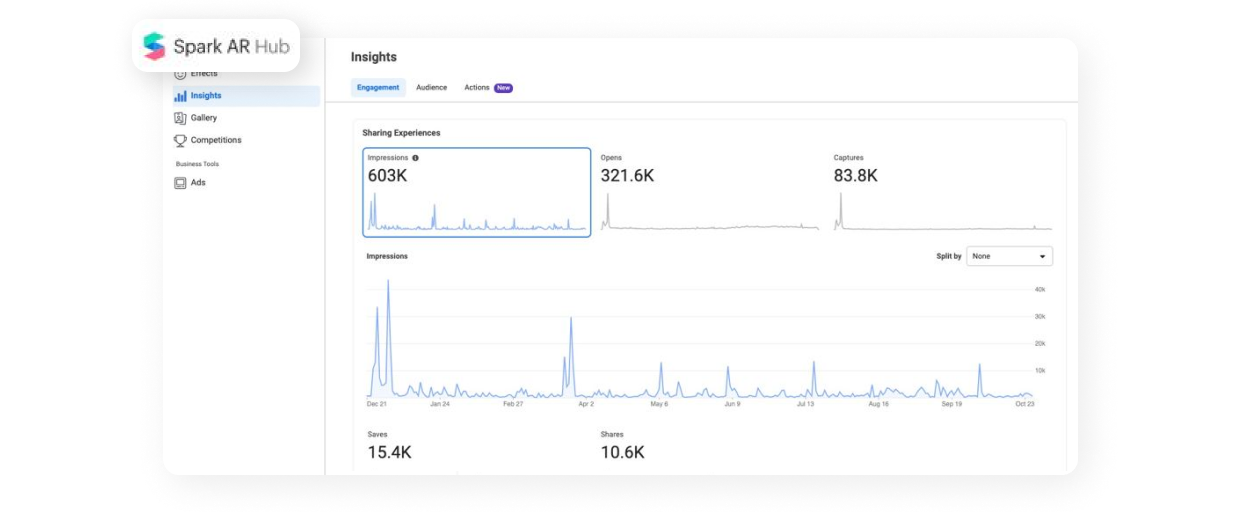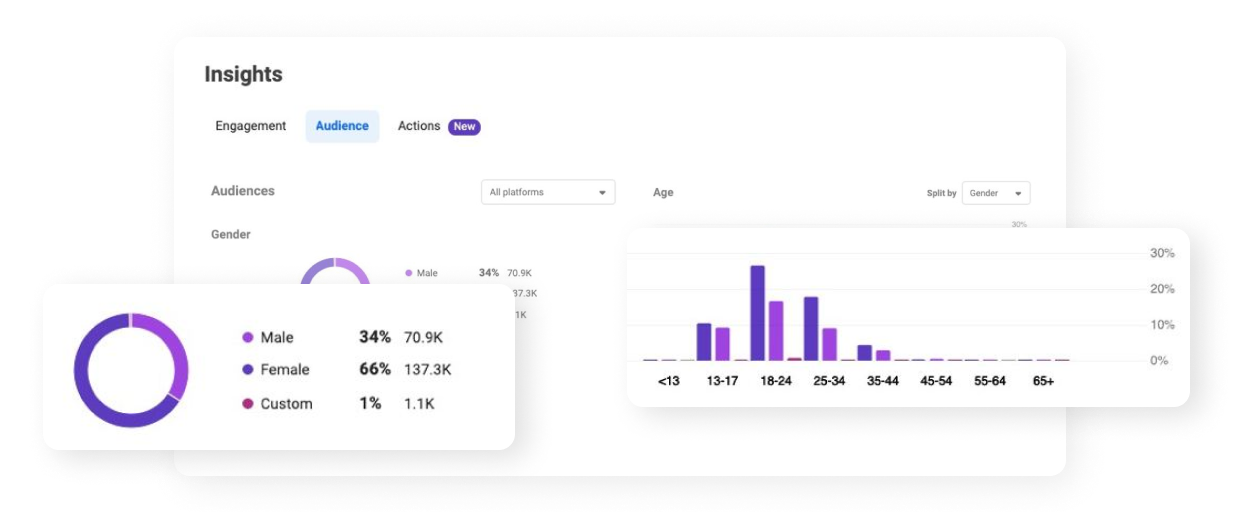 Successful Examples of Holiday Filters in Marketing
Many brands use IG effects to promote their businesses, and they are especially successful in implementing them before the holidays when people are in the mood and have time to play with filters. Of course, the use of branded filters is not limited to holidays alone. But let's take a look at some good examples of
AR filter ideas
.
Walmart
Walmart has been preparing holiday catalogs using augmented reality technology for several years in a row. It picks up gifts from the catalog, and these items can then be found both online and in physical Walmart stores. Thus, the company achieves several goals at once:
– Provides a comic and simplified selection of gifts for friends and family.
– Increases sales before the holidays.
– Entertains the target audience, that subscribes to the store pages on social media with great pleasure.
One of the directions that Walmart uses is the AR filter. Here's an example of a Halloween filter on Instagram from Walmart Mexico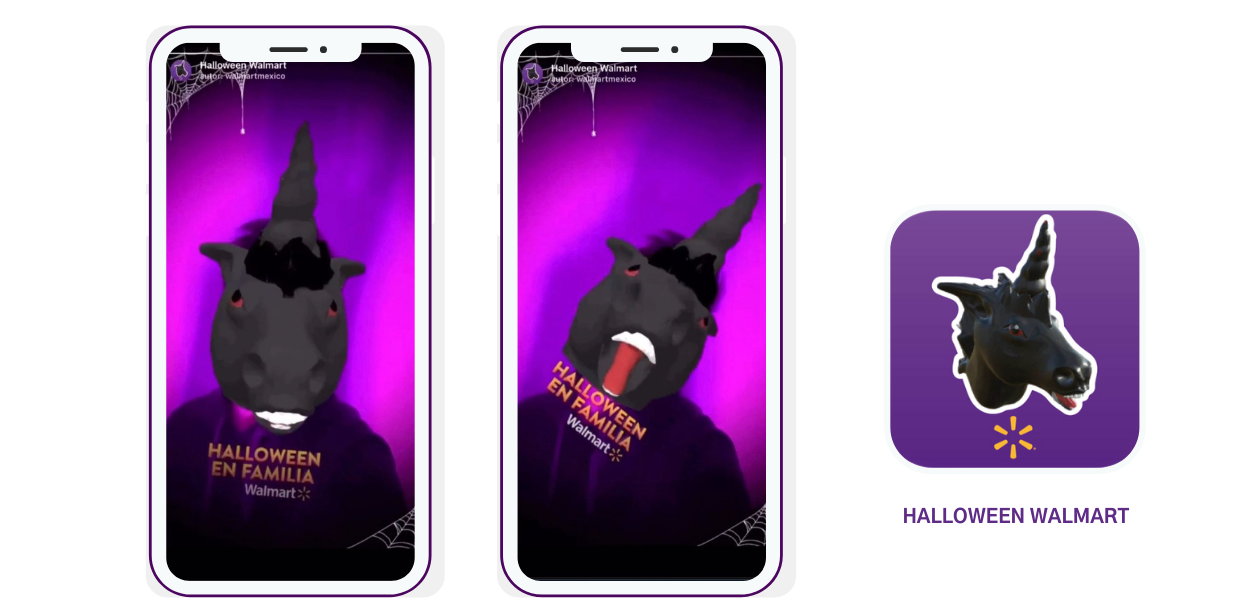 HALLOWEEN WALMART
The success of the first campaigns using the IG AR filter means that the brand is preparing for the next holiday just as seriously
Coca-Cola
On Christmas Eve, Coca-Cola immerses its users in the atmosphere of the North Pole: polar bears and other scenes that come to life in a filter. To experience this, even those who don't like the drink join those who use branded filters. Coca-Cola is a vivid example of how viral marketing works: social media users shoot a story, and even if they don't talk directly about the product itself, the name of the filter is still displayed at the top of the page with an active link to the Instagram filter.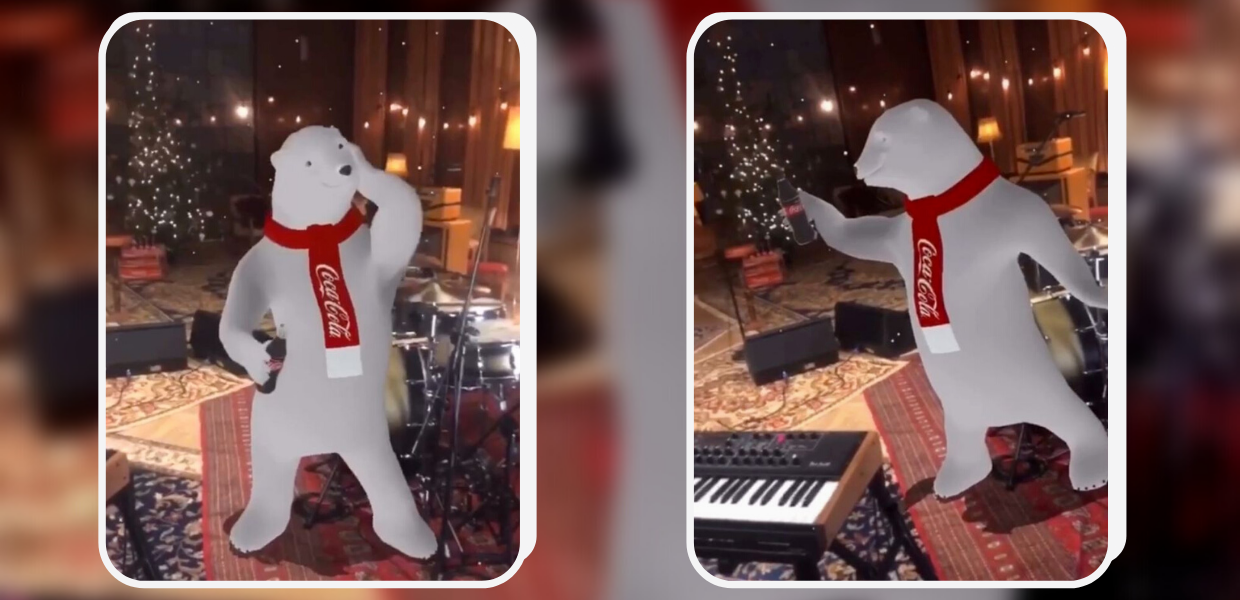 Coca-Cola Poland brings Coca-Cola Polar Bear to life
Another example is a game AR filter called Coke's Santa jumper Coca Cola that engages users. Very attractive filter where Santa jumps up the sugar sticks, during the game the filter counts points and thus involves the user to score more points and share their result of success.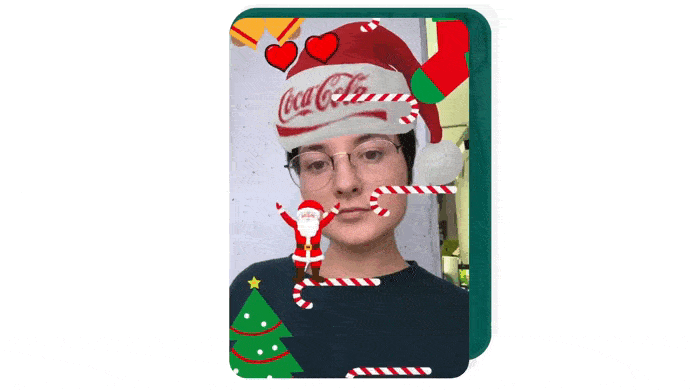 Coke's Santa jumper Coca-Cola
Starbucks
With the festive media space, Starbucks is ready to compete for supremacy even with Coca-Cola. The brand prepares an annual design of branded cups, and thanks to augmented reality, when pointing the camera with the filter at such a cup, the user will enjoy interesting effects. Many people willingly record it on video and share it with friends. Thus, the brand successfully reminds of itself, bringing into life not only a festive atmosphere but also the smell of favorite coffee.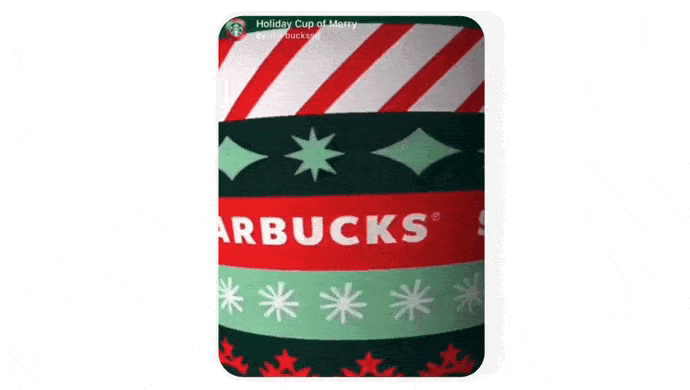 by Starbucks Singapore
In anticipation of Halloween, Starbucks Spain has prepared an exclusive face filter. You can try a new filter on Instagram.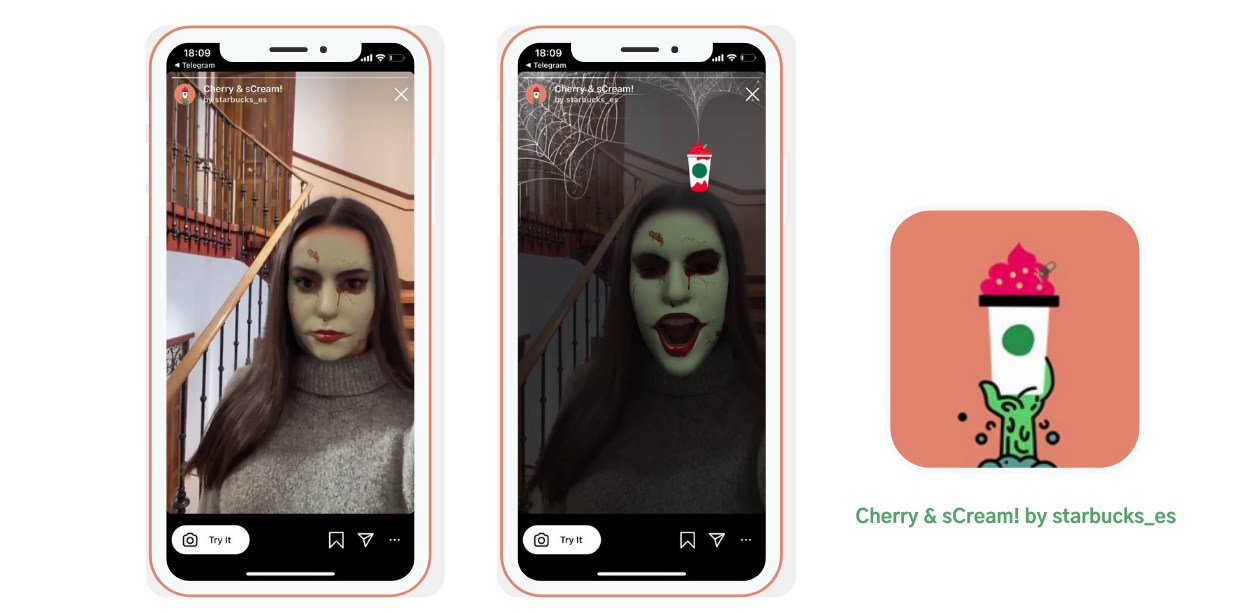 Cherry & sCream! by starbucks_es
Bright, interesting, and even exciting concepts are embodied by other brands as well. Before the holidays (and not only), you can see filter examples from IKEA, Nestle, MAC Cosmetics, and other brands that are also beautiful and effective.
Advantages of Instagram Filters
People spend more than 2 hours a day on social media, watching the feed or trying on interesting filters and effects on Instagram and Facebook. In total, more than 2 billion users are registered on these social networks, and 170 million of them are active users of augmented reality effects. Trying on IG effects, they are having fun or trying to diversify their content, and they do it especially actively before holidays.
Last year, this AR filter was published on New Year's Eve https://www.instagram.com/ar/768651217063690 . In a week, we got excellent statistics in the form: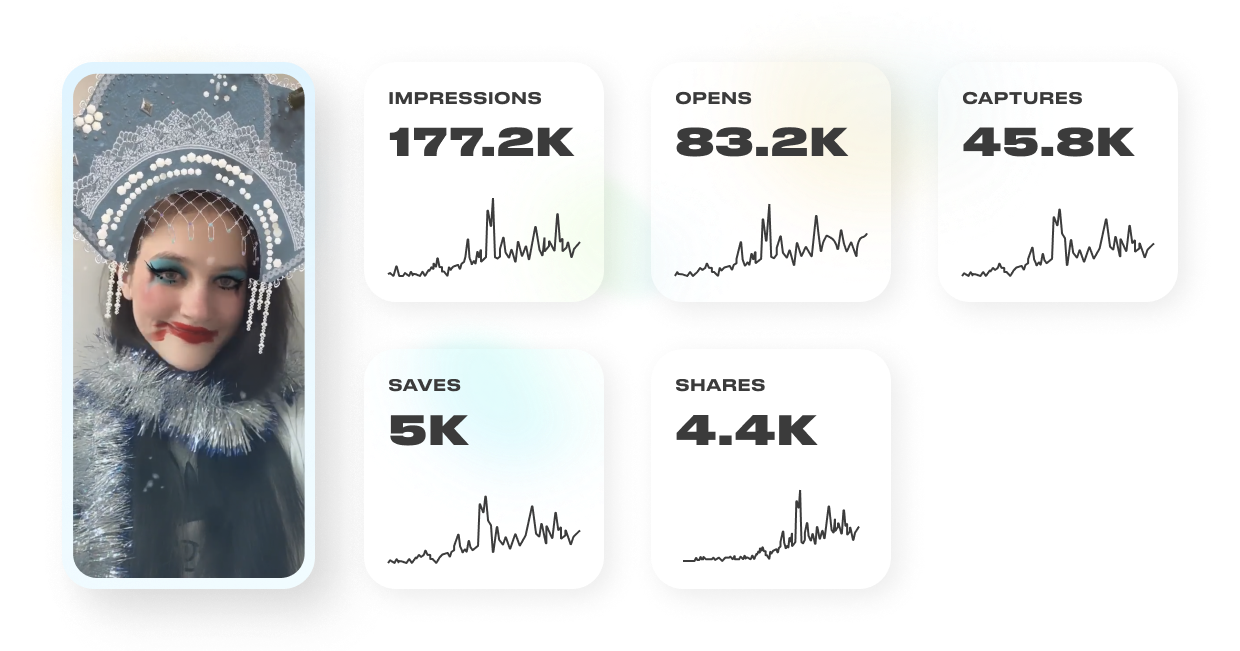 The benefits of using Instagram filters to promote brands are undeniable. Companies that use such a tool for marketing purposes can expect the following results:
– Minimal competition and high user involvement leading to rapid growth in statistics.
– Maximum opportunities for automatic generation of viral content.
– Excellent indicators of brand awareness, CTR growth, and sales increase against this background.
At the same time, companies can effectively track the success of the campaign thanks to informative metrics in the Spark AR Hub Facebook. Detailed statistics will allow you to compile detailed reports, and based on real numbers, estimate the economic benefits of each campaign.
Social media filters used by popular bloggers have long and successfully enjoyed popularity, while large companies and small brands are at the very beginning of the journey. Not everyone uses IG effects in their advertising campaigns; so, this tool is still an accessible field for experimentation and UGC.
It's time to order the production of a branded Instagram filter for the upcoming holidays. Moreover, many of us continue to work from home, which has led to more active shopping online. Your audience is ready for you to show them IG effects and gain attention, trust, and love, while you, in turn, increase recognition and sales in your online stores!
Bottom Line
The main goal of any filter is to make the audience like it and want to share it. Filters help establish communication with subscribers, transmit a vibe, create a mood. This is especially true before the holidays when people actively post new photos and videos on social media. Let among that content be the one that was created using your filter prepared for Halloween or Christmas.
For maximum efficiency, encourage subscribers to use your Holiday filters. Also do not ignore attracting relevant bloggers to the promo of your filter, because AR filters are, in fact, an excellent branded template for creating content by users in Instagram stories. With those filters, users share information and create UGC more and more.
The most important thing is to convey the vibe and fulfill the communication goals of users in social networks, starting from the characteristics of the target audience and the interests of the brand's subscribers.