Augmented Reality Trends in 2021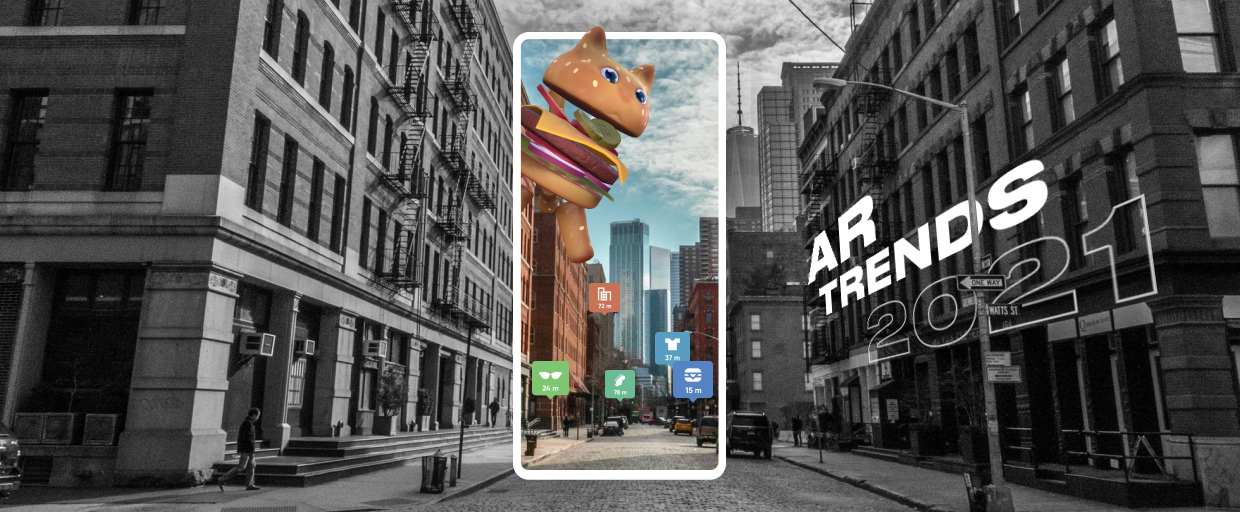 Augmented reality technologies are developing at an incredible pace, appearing in almost all areas of human activity. To fully assess the scale of AR spread, according to
ARtillery Intelligence
data, at the end of 2020, there were almost 600 million active devices supporting AR. In 2021, this technology has already become a niche leader, and it is used for educational, professional, entertainment purposes and even to promote businesses. Let's see what augmented reality trends are present in the world in 2021.
Social Media Is the Main Stage for AR
The first thing that the average Internet user imagines when hearing about augmented reality is, probably, social media AR filters. And this is not strange because such filters, for example, in Snapchat, appeared back in 2015, and the very first filters with AR technologies were presented even earlier. It was originally something purely entertaining, but in, 2021 Instagram AR filters are a full-fledged tool for promoting brands. Everything has changed since the moment when Facebook allowed users to add custom AR filters and even introduced special software for creating them. Companies began to actively use this opportunity for marketing campaigns. Such filters examples by Morphy Vision can be found and tested on Instagram.
Now, AR filters appear every day on Instagram, Facebook, and other networks in better quality, with more detailed 3D and improved animations, so that many of them are even difficult to distinguish from reality. It is likely that social media will remain the most popular and demanded platform for augmented reality technologies, at least for the next couple of years, because of its affordability, ease of use, the ability for a brand to create its own less expensive UGC, and a number of other benefits.
E-commerce and 'Try Before You Buy'
The New AR trend is function 'try before you buy' has been used by online shops for a long time, but the COVID-19 pandemic has increased its demand. In 2021, many companies started applying augmented reality in ecommerce. They use product visualization to allow the potential buyer to see whether a new hat will suit him/her or whether a branded lamp will fit into the interior. To do this, a person just needs to go to the "fitting room" in the online store and point the camera at him/herself so that the AR is applied or point it at the room so that 3D visualization is added to the interior.
Augmented reality in retail significantly reduces the number of returned goods and increases sales because many potential buyers do not dare to buy something as they are not sure how the product will look in real life. The function 'try before you buy' is added not only by big brands to their online shops but also by medium-sized businesses using custom filters on Instagram for these purposes. Read more about this topic in the article on benefits from Instagram AR filters in business.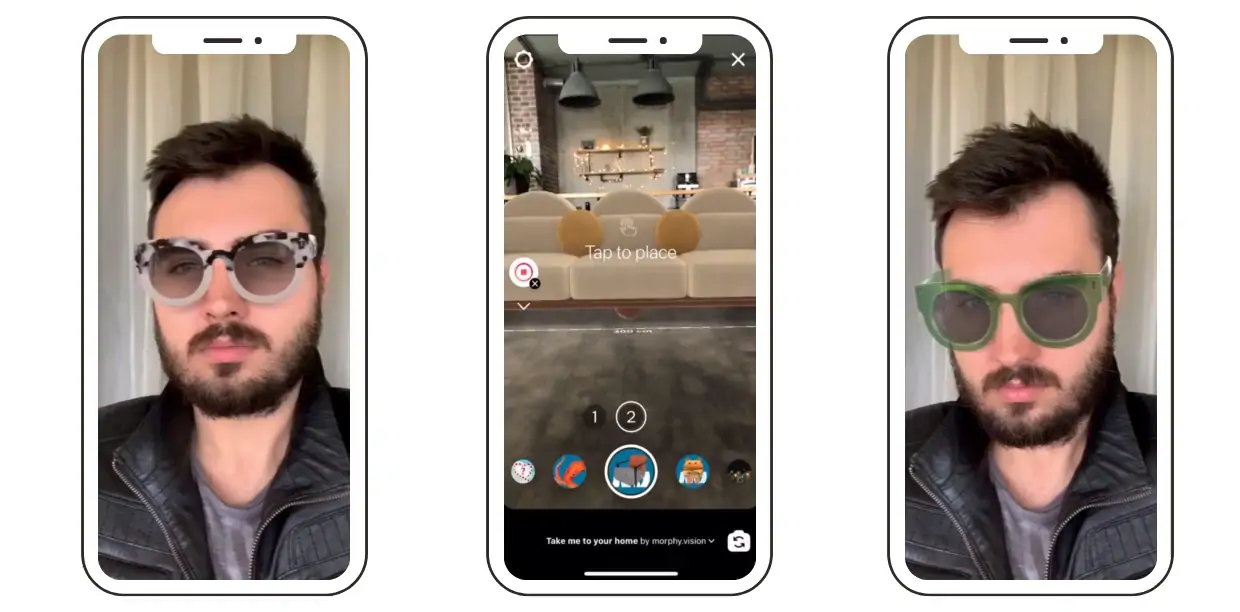 Interactive Education
It is widely known that passive learning is less effective than active learning. In other words, experiential learning through practice enhances memorization on the contrary to reading theory. This makes the education sector in need of augmented reality technologies. As with online shopping, COVID-19 has also influenced the development of AR in schools and universities. In particular, AR education can be used in distance learning, and specialized companies are already working on this.
For example, as with the "fitting" of a lamp in the interior, it will be possible to "place" a blackboard right in the student's room or study the structure of the skeleton by simply pointing the camera at yourself and seeing there the outline of the bones and their names. An example of already launched in January and applied AR education technology is Epic application from the Gibson guitar brand. With this augmented reality trend the student can learn to play the guitar with the band.

The Next Step in Healthcare
The use of augmented reality in the healthcare field shows a significant increase in the accuracy of surgeries and other medical procedures. An example of the successful application of AR in healthcare is the XVision headset by Augmedics. Using this headset, the surgeon can see the 3D visualization of human organs through the skin and body parts of the patient, as if they had X-ray vision.
Augmedics and other companies with AR devices have significantly increased sales in 2021, and they continue to work to improve their technologies. Augmented reality is the next step in medicine, which can make possible those operations that are now impossible or very difficult to perform due to the human factor. Also, AR technology is already actively used in medical education at universities, where students use AR in the real-time study, for example, while examining the structure of the human circulatory system.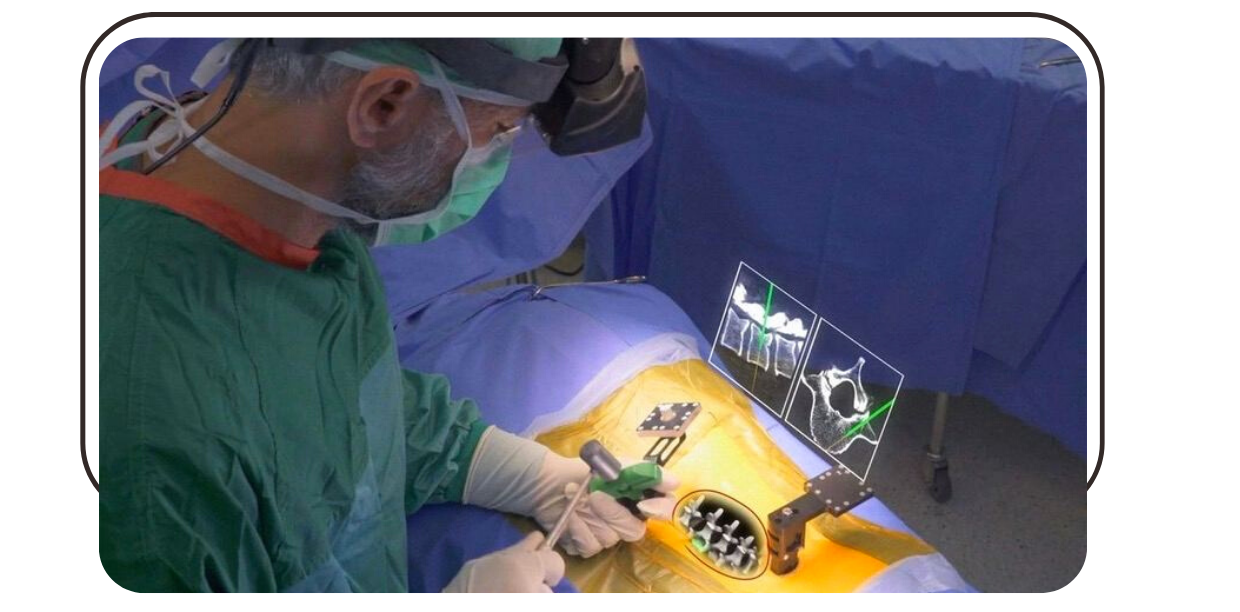 Navigation Has Never Been so Easy
Google's AR Live View walking directions for Google Maps is not unusual for users, and it has long been used in everyday life. However, in 2021, similar technologies began to appear more and more often for navigating shopping centers, airports, business centers, and other buildings. Augmented reality products and software are gaining popularity among large companies that want to make the stay of customers around their establishment more comfortable. Agree, at airports, especially in a foreign country, quite often, there is a fear of getting lost and not catching a plane. Navigation becomes easier with AR technologies.
Virtual Manuals
On this issue, COVID-19 has made adjustments too. During more than a year of lockdowns, repair services for equipment simply did not have the opportunity to come to someone's house and do their job. In 2021, several augmented reality programs and applications were launched to help people cope with problems themselves. The work of such applications in the demo video was shown by MobiDev. In it, a user makes a video call to a specialist because of a computer problem.
The specialist looks at the computer's system unit via the video and draws AR pointers where there is a problem and what needs to be connected. Such use of AR makes the repair of things in the house a much quicker process since there is no need to wait for the arrival of a specialist, and this is well applicable in modern realities where there is a place for the pandemic and self-isolation.

Smart Glasses Is a New Trend
In September, Facebook, in collaboration with Ray Ban, introduced smart glasses. There is no augmented reality in them yet, but given that Facebook is actively investing in the development of AR technologies, for example, Spark AR software for creating AR filters, it is expected that AR will be introduced in the second generation of smart glasses. Also, AR glasses were launched by Lenovo and other companies. The presence of augmented reality technologies in such glasses is minimal, but the fact that this will develop in the near future and will be the main trend is true. The most anticipated release is Apple Glass, in which the functions of AR technologies will be significantly greater than in existing similar products. The augmented reality trend in smart glasses has existed for a long time. One of the earliest examples is Google glasses in 2013.
However, technology at that time did not allow making a comfortable device with necessary functions. With the release of Facebook glasses and the upcoming creation of Apple Glass, smart glasses are becoming a new platform for the AR business to introduce these technologies.
LiDAR
LiDAR is a technology for real-time depth measurement. It is used to improve the adaptation of AR objects to the room space. This technology has existed for several decades, and it is actively used in various spheres of human activity, but it became a trend only at the end of 2020 and is still popular. The fact is that at the end of the last year, Apple introduced LiDAR in iPhone 12 and recently presented the same technology in the new iPhone 13. Apple is actively promoting augmented reality in its products, and, as mentioned above, it is going to continue this trend in the new Apple Glass product. One of the first to leverage LiDAR in iPhones to improve the quality of AR filters and make an augmented reality experience truly impressive was Snapchat.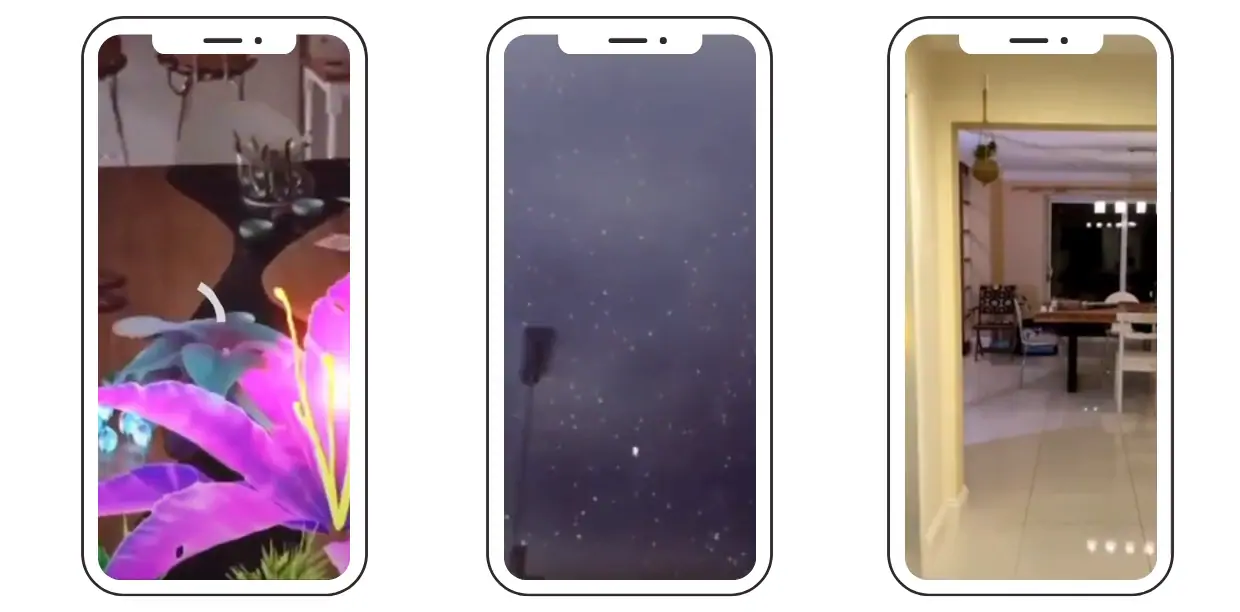 Future of Augmented Reality
Augmented reality future is more than easy to predict – this technology is already developing rapidly, and it will only gain speed. AR is very popular in almost all spheres of activity, and it will only grow, introducing new functions into the devices we are already familiar with as well as in new ones. In a few areas, we should expect the emergence and development of AR in the first place:
– Medicine
– Education
– Marketing
– Fashion
– Retail
– Service
– Navigation
– Communication
– Art and more
Since every company that provides devices with augmented reality uses the latest technologies and currently needs new developments, it is worth expecting that the widespread use of, for example, smart glasses with AR, will become a reality in more than one year. There are high hopes for an even greater popularization of AR with the help of Apple products since it is this company that sets the latest AR trends.
Nevertheless, social networks remain a place where every user today has access to AR and uses this technology on a daily basis. For a couple of years, social networks will remain the main platform for AR development. There is no doubt that augmented reality will bring completely new possibilities into people's lives in the near future. It remains only to follow the latest news from the world of technology.