The Impact of Augmented Reality on Marketing and Sales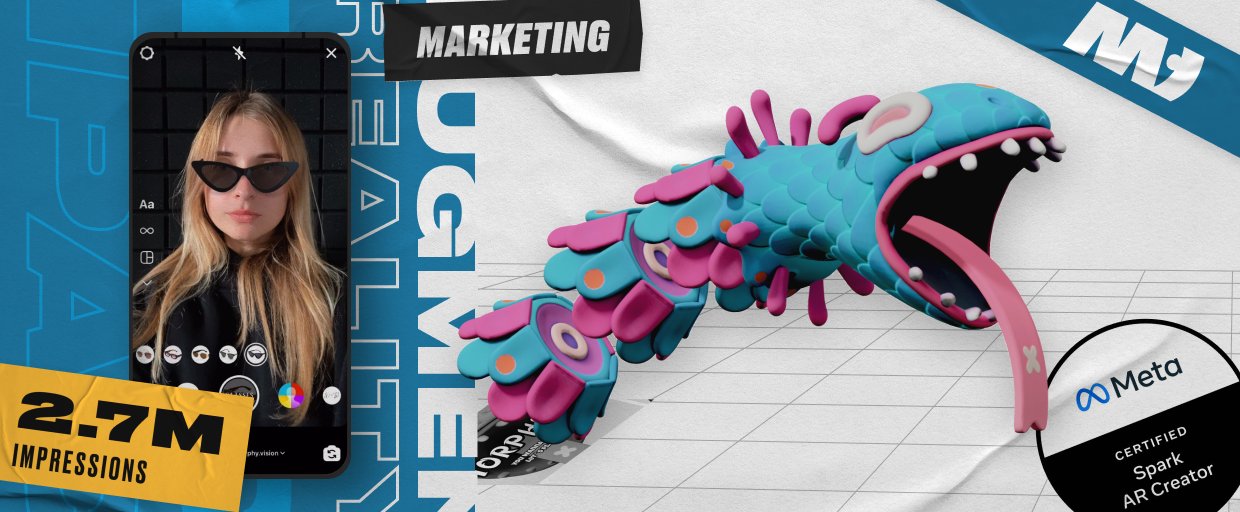 Augmented reality has changed the marketing landscape—it removed the gap between real and virtual realms. The technology made digital content appealing by showing people a complete and realistic impression of objects surrounding them. AR has become so massive that it surpasses just games or entertainment. Today, AR also focuses on utilizing the technology in tourism, architecture, education, and especially business and marketing. With AR, companies and brands can create unique experiences, engage customers, and boost conversions.
How does AR change consumer-buying behavior?
As advanced technologies appear, businesses realize they need new ways of promoting their products in 2022. Nowadays, consumers demand more—they buy products that are advanced, provide innovation, and deliver outstanding experiences.
To meet this goal, AR serves as an interactive tool to boost marketing and sales—all for the sake of the growing power of smart device applications. By blending artificial intelligence and real-world experiences, brands receive effective means for content creation. The created AR quips make the difference—they boost the shopping experience and let people try products before purchasing them.
AR in marketing has distinct advantages, namely:
– By placing virtual products in customers' hands, brands can interact with brands, services, or products
– Furthermore, AR has near-magical visual appeal. Its charm plus entertainment value are two essentials that promote the application's long-term use
– Try-on things, like glasses, save a ton of time. An AR app will help customers choose products' sizes, designs, overall vibes via several clicks. This greatly boosts the shopping experience and confidence in making the right choice.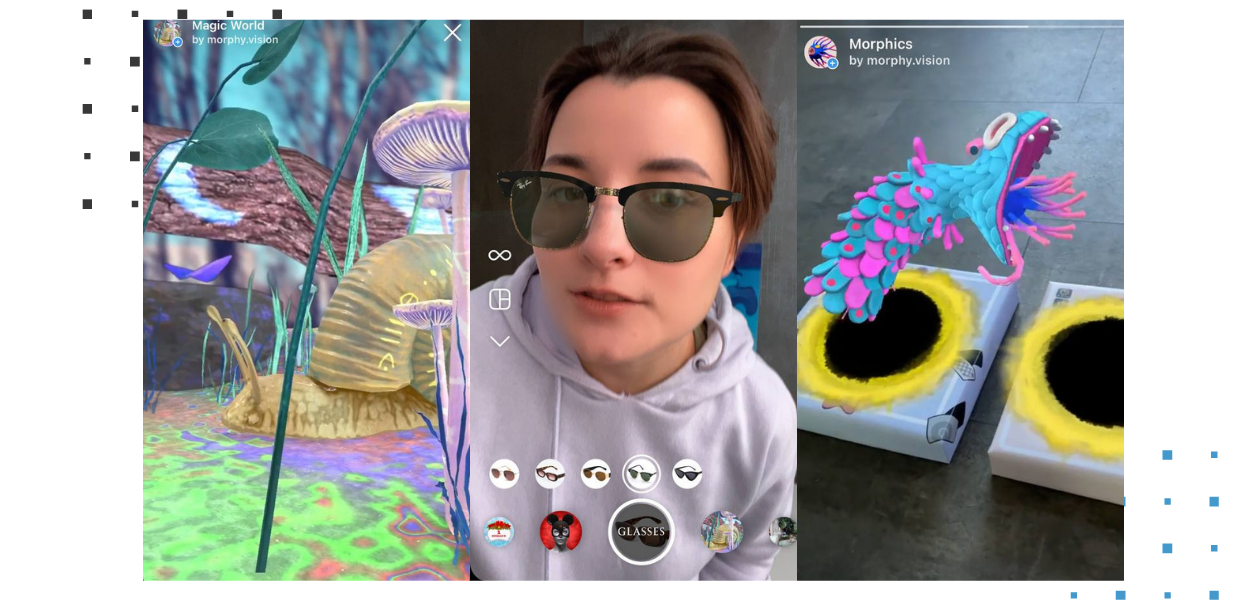 The AR market over the years
The AR market in retail has been booming. However, with the current COVID-19 pandemic, businesses have resorted to remote work and adopted AR technologies. Before the global pandemic, industry research projected worldwide spending on AR in retail at $7,951.2 million by 2023. Luckily, AR is perfect for adopting virtual retail, where all this money is going now. And we saw businesses started using AR to enhance their brand recognition and advertising campaigns helping the retail market grow rapidly. In fact, there will be an estimated 2.4 billion mobile AR users in 2023. With only half a billion AR marketing users in 2019, it grew to $1.41 billion in 2020. About 71% of the consumers also say that they are more interested in shopping when using AR, and 61% prefer retailers with AR knowledge and experience—over 100 million customers had also used augmented reality e-commerce apps for shopping in 2020.
AR across social media applications
Social media is now everywhere. And in the marketing sector, social media helps businesses track their consumers' activities and interests, boosting marketing strategies immensely. Apps like Instagram, Snapchat, and Facebook have become the playground for all sorts of marketing campaigns recently. Here's how they do it:
Instagram branded filter
Since 2017, Instagram has been employing AR filters—many businesses have taken advantage of using these filters to promote their brands. The key AR advantage was allowing users to try products virtually, most notably beauty and cosmetics. Beauty shoppers can utilize their front-facing camera to see their faces with virtual copies of real-life products, including lipsticks, eyeshadows, foundations, and more. Businesses offering optical frames and sunglasses have also benefited greatly—their users can choose brand filters of sunglasses in various styles and colors. Another great option is adding 3D objects and characters to an interactive environment. Brands also leverage the portal effect that lets users place an augmented doorway in their real-world surroundings to enter another realm. All those quirks allowed popular Instagram effects and AR filters to increase brand awareness and engagement, as the traffic from the Instagram page may be easily routed to your website.
Brands can also use AR to develop goodness and positivity on Instagram.
One example is the National Peanut Board's campaign called Spreading Good. The AR filter randomly invites users to spread happiness with uplifting alternatives, including spreading music, friendship, compliments, puppy GIFs, PB&Js, and more. Users can use the filter and follow whatever comes up on the screen.
When the filter says "spread more compliments," it will say good things to people around them. As a result, users can share the filter with their friends and families, allowing them to spread positivity to ease anxiety and stress, especially during the COVID-19 pandemic.
Snapchat brand filters
According to Snapchat's CEO, Evan Spiegel, users are likely to use AR filters 30 times a day. As of 2021, Snapchat has 306 million daily active users worldwide, imagine the potential AR traffic. Because of this, Snapchat allowed retailers for using the app to promote products. The app released the new Screenshop feature for scanning clothes or submitting a stored snapshot of a fashion piece. Then, users can present it with shoppable recommendations from hundreds of businesses based on the image. This became a hit for buyers and sellers thanks to consumers having personal shoppers right in the camera's branded filters.
Snapchat also released Shoppable AR lenses for consumers to try on products in a brand's catalog digitally. They have integrated lenses that include fitting tools for buyers' wrists and eyes—this let watches or glasses designers create AR filters tailored to individual users. With largely Gen Z and millennial demographics populating Snapchat, businesses receive an active user base who are keen on innovative purchasing.
How does AR affect the marketing industry?
AR is an effective form of social advertising thanks to its interactivity and user-friendlieness. If you create neat AR effects, they receive shares and make your business grow. See how exactly you can benefit from AR by boosting your:
Consumer engagement – nowadays, almost everyone owns a smartphone to purchase products. Once consumers learn your company has a brand-new AR app, there's a good chance they'll give it a shot. Then, just make an AR try-on of your products and attract new buyers! AR is a new phenomenon, so making unique AR effects will get users excited and create long-lasting memories. Users will share filters with their friends, making your brand viral across social platforms. In fact, people would love to cling to a brand that would make them hyped, so make your AR good and expose it to the top.
Brand awareness – AR unlocks new narratives to captivate both potential and present consumers. As mentioned above, the AR user base is massive and is only projected to grow. Don't miss the train.
Clickthrough rates – According to The Drum, AR can captivate users' attention for more than 85 seconds, raise reaction rates by 20%, and improve click-through rates to purchase by 33%.
Purchase confidence– As AR lets shoppers try things before purchasing, it creates more confidence in their buying decision. Businesses get a rise in sales as buyers feel more secure purchasing their products.
Trackable analytics – AR filters give millions of shares, and Instagram offers rich analytics that helps you understand your audience. You can also get the Instagram and Facebook filter analyzer from Spark AR Hub, helping you easily track data on your filters. Below is an example of monitoring AR filter analytics.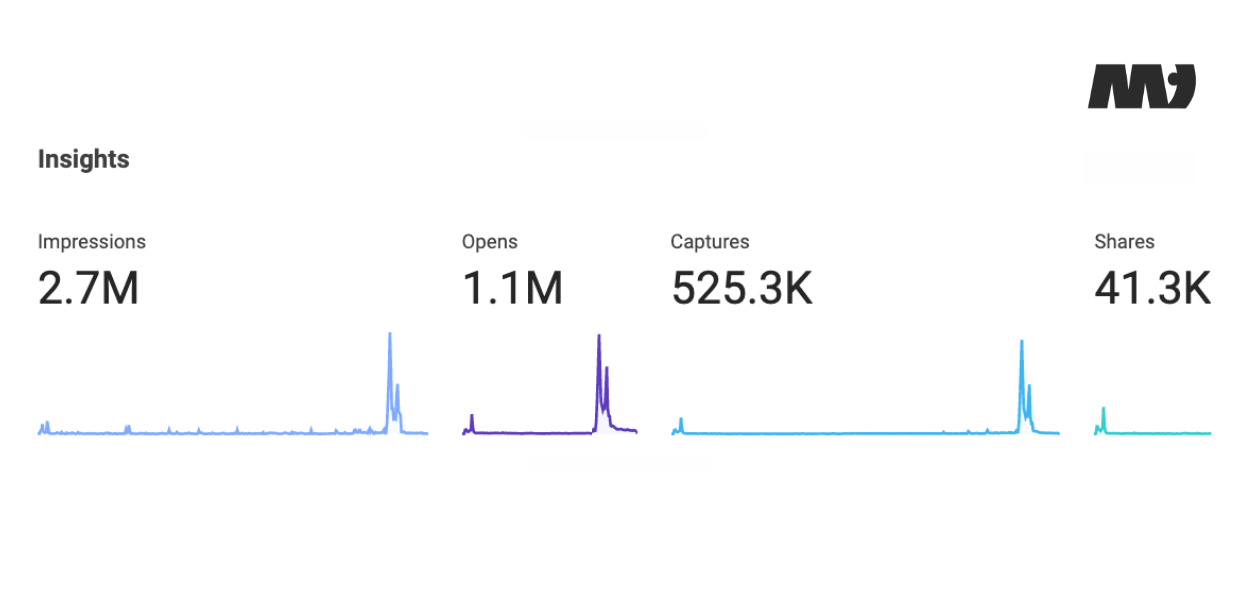 Is it that popular
Surely, it is.
For example, the car industry. Using AR, car manufacturers showcase car models and their key features in AR showrooms. As modern cars have tons of options, AR leads to choosing the right configuration by seeing the final result beforehand.
Lego, for example, recently released several brick sets that blend physical and virtual action. Animated Lego characters come and interact with physical Lego sets via the associated AR app, resulting in an entirely new gameplay experience.
Conclusion
AR for e-commerce brands is a proven tool that improves social media experience and boosts sales. As AR improves and brands adopt it, it will be more of a need than a want in the future. Consumers purchase from innovative brands that adapt to trends. In 2022, it is hard to name a more effective tool other than AR, both money- and recognition-wise. Be the ones to adopt AR, you won't regret.