Marketing today: creative studio, Morphy.Vision, sheds light on AR/VR trends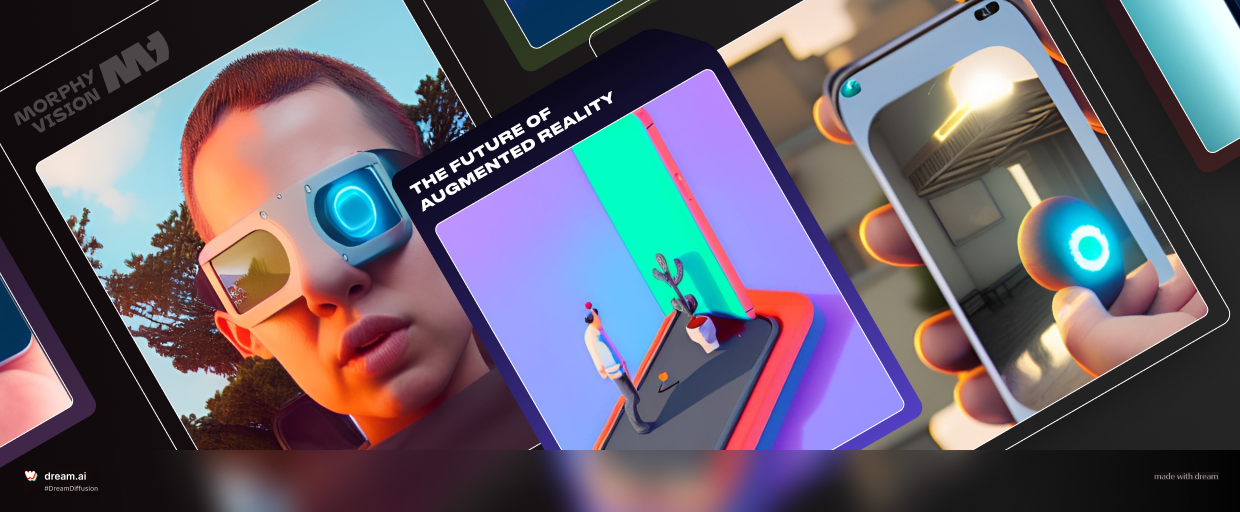 In 2008, BMW "MINI" first showed off an AR ad. And this experiment kicked off a trend for steady AR growth–the segment is poised to overcome the whopping $50B by 2024. And the Ukrainian market is in the pack—despite a devastating war, their tech companies continue growing. Оlena Gertsuskaya, co-founder of Morphy.Vision, this article will cover the key trends in AR / VR and the fusion of AR with other digital things.
AR + NFT
During the past 2 years, the NFT market has grown up to 10 times. Jokes aside, NFTs reached over $2.4B in the first 6 months of 2021—and it's just the beginning.
The whole AR+NFT premise is simple—inflating a visual object amplifies the user experience effect. In every sense, it expands the emotion and visual value for customers and collectiors. Plus, it becomes an extra income source for brands and creators. I can bet that non-interchangeable AR-powered tokens will become mainstream. And now is the best time to hop on the train. Meta and Snapchat are all over testing AR combined with NFT. And it scales for every industry: from fashion to interior design. To visualize or amplify an existing token, you have an endless cache of creative solutions. Look at RTFKT Studio and Atari for one. They created a digital sneakers line-up whose owners can show off in blockchain-powered multiplayer games, including Decentraland, The Sandbox, and Atari Metaverse. You can also try sneakers at home via Snapchat.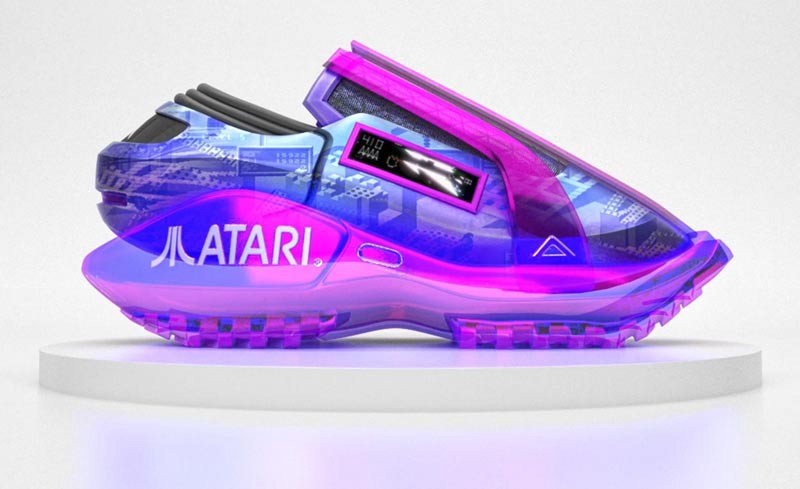 Image credit: Atari
Here's another case from Gucci. They never feared experiments, and now they embrace tech. They just release AR + NFT sneakers that you can wear via the app before buying. Okay, enough digital quips. Let's dig into practical things!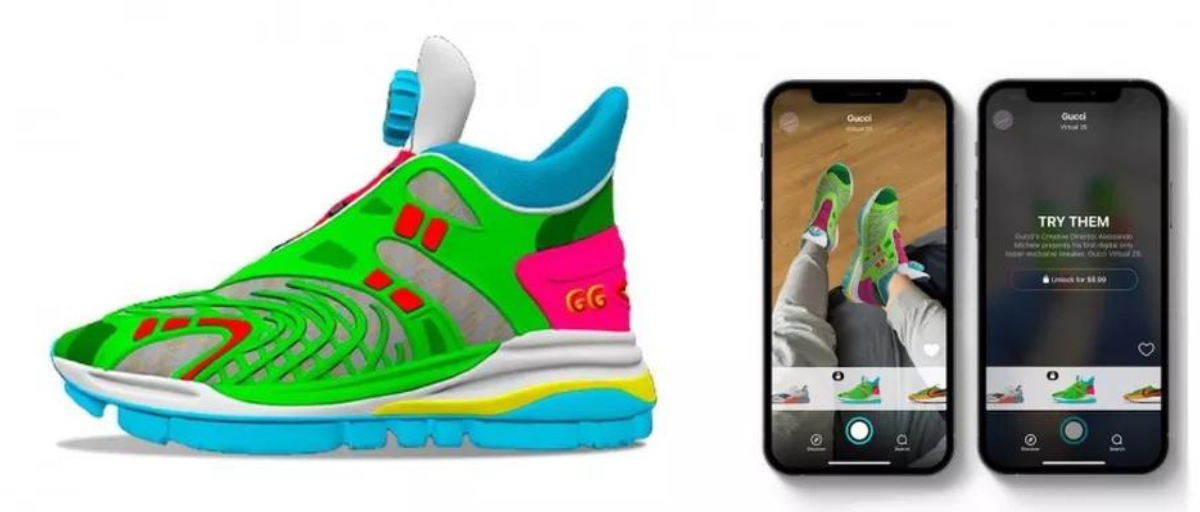 Image credit: Input Mag
Remote assistance with AR and VR
Previously, qualified workers had to make business trips to project corporate values and train staff. But now, it's more or less gone due to time, money, and work-life balance concerns. And AR played a big role in it. Using AR in particular, senior staff can remotely solve issues and train newbies. They can do it while pinpointing elements visible to them using AR/MR headsets. It perfectly fits the service sector and is safe during complex operations. According to predictions, about 50% of maintenance will rely on remote capabilities. The maintenance will include repairing, customer service, quality assurance, and tutoring. And on the hardware side, we have big names producing potent AR goggles. There are ThinkReality A3 from Lenovo, Hololens from Google, Quest from Meta (Facebook), and Vive from HTC. Well, these names are prominent in entertainment. But what about serious production workloads, powered by AI? For one, Boeing uses AR to apply digital 3D electrical schemes on KC-46 tankers and 767 planes to speed up production and boost accuracy.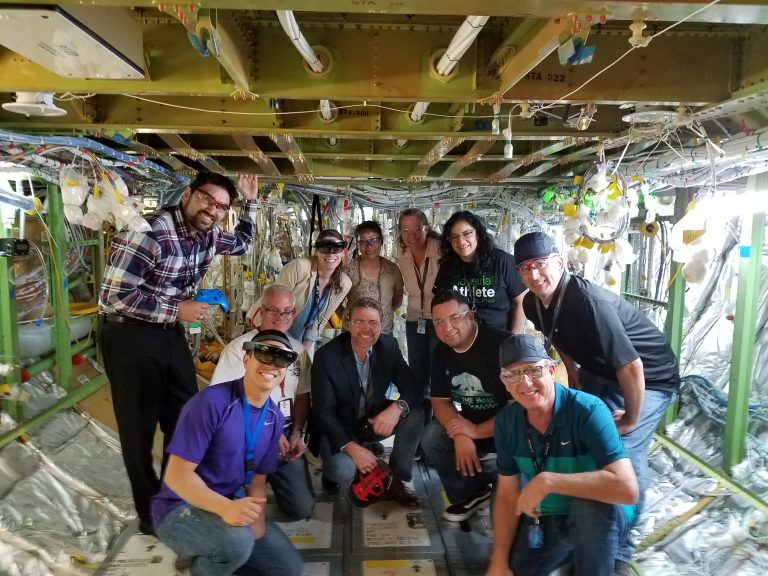 Image credit: Sme
AR in fashion, entertainment, and education
We have already touched on fashion in its NFT + AR use. According to Gucci's chief marketer, Robert Triefus, the digital world creates a special economy. Virtual goods have value thanks to their rarity and the ability to be traded or shared. But AR in fashion blew up much earlier—in 2018. At a Tehran AR Fashion Show, people saw models posing on a digital podium. Shortly after, at a Cannes Lions International festival, Vogue together with Snapchat created a virtual wardrobe for branded clothes from Gucci, Balenciaga, Dior, etc.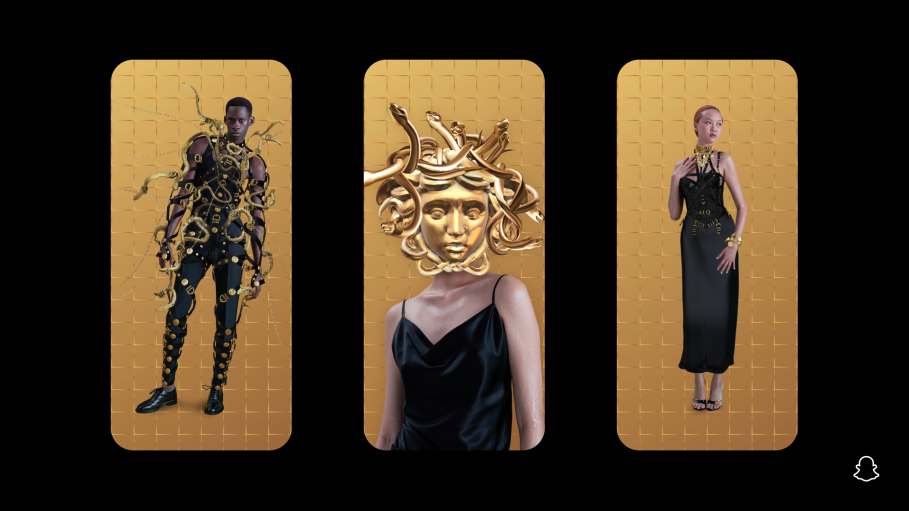 Image credit: Newsroom
The museums are no exception to AR/VR. The easiest way to implement it is by making tips and explanations for exhibits—this gives visitors extra information and adds cool interaction. At some exhibitions, AR projects a 3D model of a painter. Some go even further and a painting's character becomes a narrator for its own painting. But here's the coolest one. Last year, the Paris National Museum of Natural History offered Hololens goggles to see animals in their real sizes.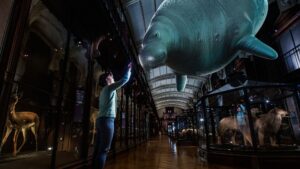 Image credit: National Museum of Natural History
Art of London shows off their AR exhibits on walls using smartphones. Moreover, a British painter KAWS launched an AR exhibition in the Serpentine gallery—visitors download the app and enjoy virtual 3D exhibits. Also, AR and VR help in education. It's known that we memorize things better if we can see and interact with them, rather than just seeing them. "Immersive" education is 70-90% more effective than the traditional one—it helps learners grasp even more techy topics. For one, using Microsoft HoloLens, students and doctors can learn about the human body. It enables traveling throughout the blood system and diving into organs.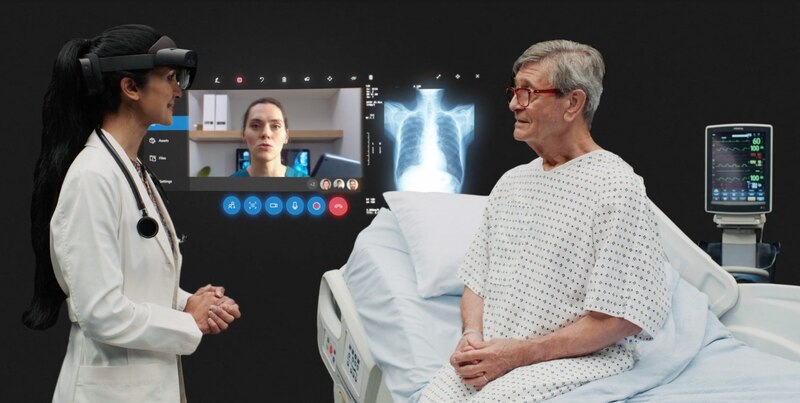 Image credit: Microsoft
AR / VR in marketing
Content consumption is getting bigger and bigger. And the very purpose of AR is attracting people via interactivity. New and engaging content is memorable, and thus has a deeper effect than normal ads, according to Forbes. AR / VR boosts marketing by delivering:
customer loyalty thanks to the "try before you buy" functionality
viral potential
trust and bond between customers and the brand
When using VR for brand promotion, you have close-to-ad capabilities to TV commercials. But AR is another thing—it's more innovative and it works in conjunction with web tools: social networks, sites, billboards, etc. And every method has its own metrics and analysis: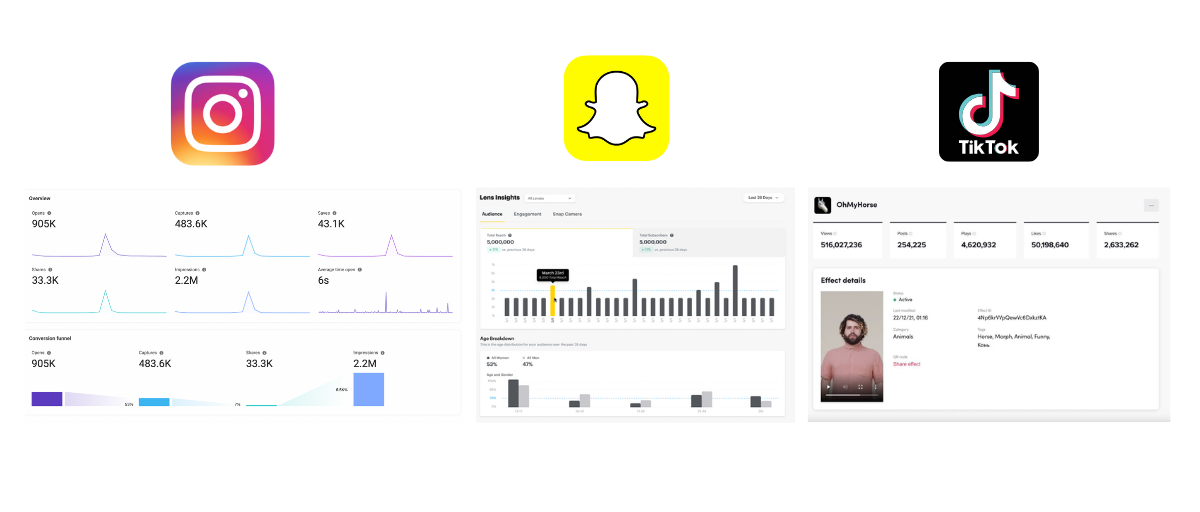 Thanks to its viral and social potential, marketers use AR on Instagram, TikTok, Snapchat, etc. An already massive social audience embraces cool, new stuff to achieve rapid results. But you gotta know your goals and why you use AR. Based on this, developers can create ideas and mechanics, adds interaction, and deliver working assets. Remember that simply adding AR won't give you a gold medal. Brands with million-scale reach became who they are thanks to a collaboration with influencers and launching UGC mechanics (raffles and challenges). In other words, you should have a marketing strategy that defines AR usage. For example, we have a Patsany.Agency case. We have developed nine 3D Urbasaur models and created Instagram filters for a massive Glo marketing campaign in Ukraine. We used our interactivity experience to make the audience not just discover but relive the ad. And results paid off big time—they were as stellar as the campaign itself.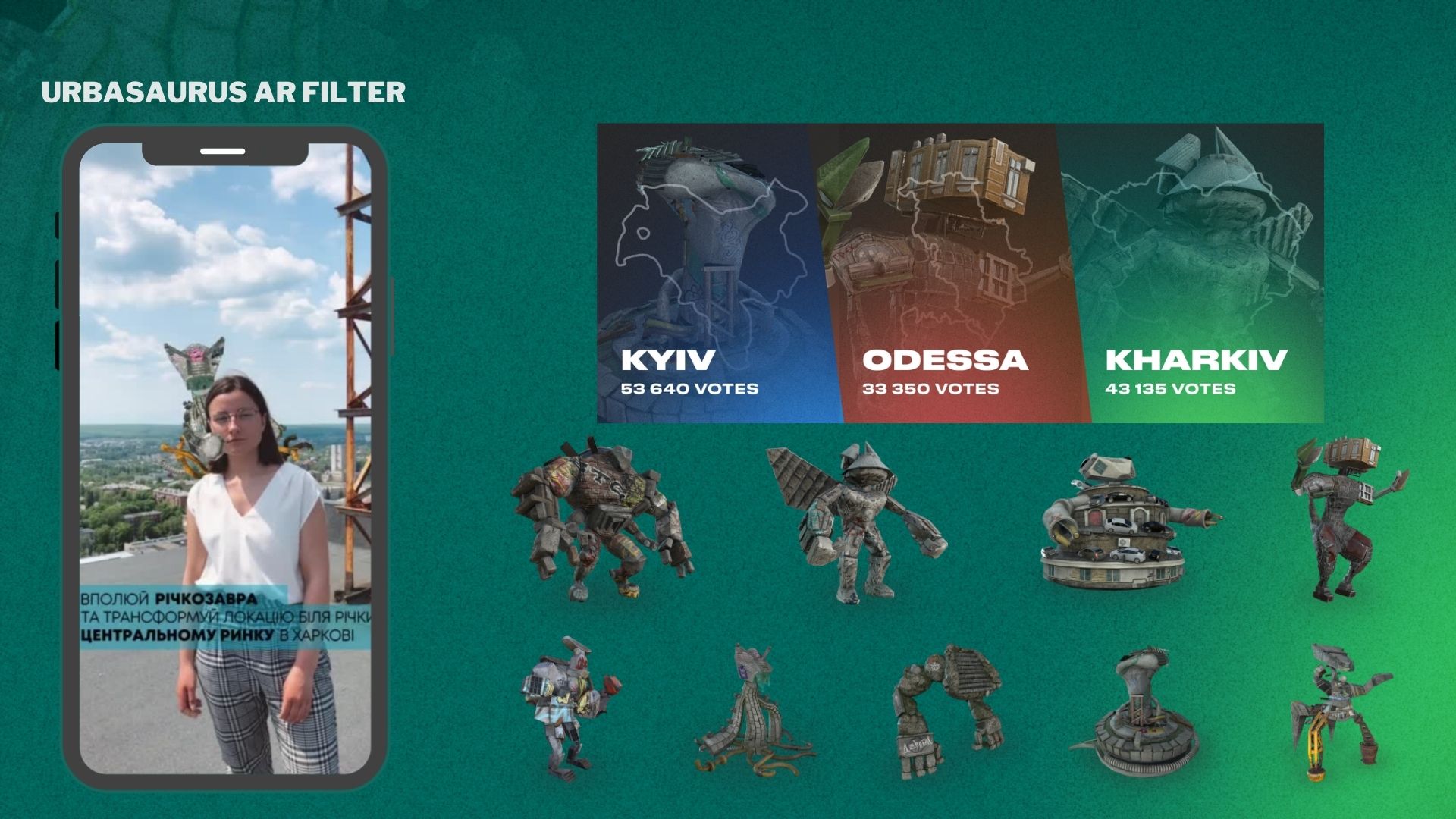 Image credit: Patsany Agency x Morphy.Vision
But this doesn't mean that AR is exclusive to large enterprises. The key thing is knowing what you aim to achieve. In IT companies, such an initiative can attract workers to a corporate culture or become an external HR tool that forms a company's brand. No doubt, marketing is in close relationship with user experience. With this in mind, optician stores can use an Instagram filter that will boost customers' loyalty and become viral. See how we implemented the "try before you buy" principle to back this claim up: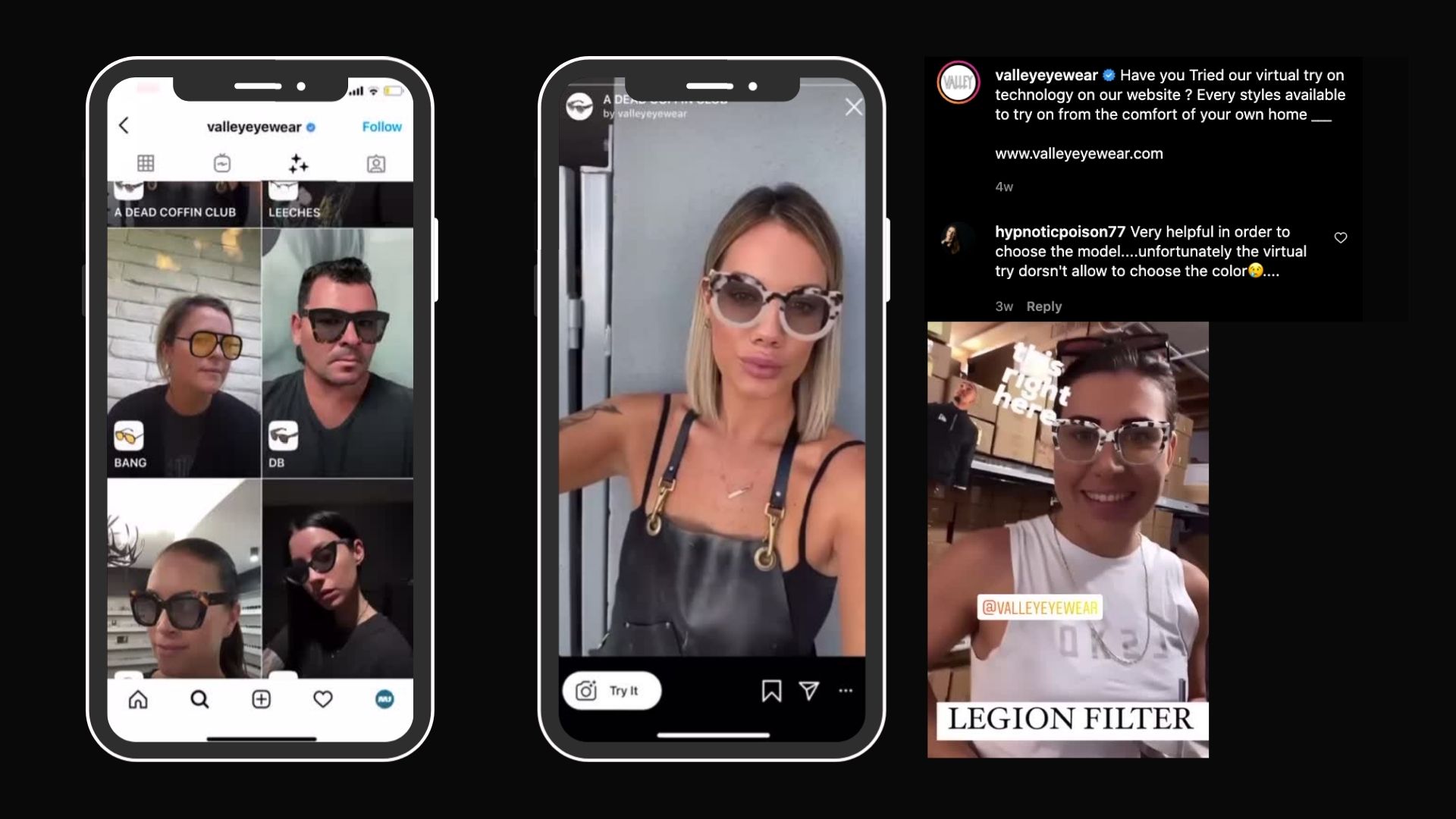 Image credit: Valley x Morphy.Vision
Maybe in some cases, AR/VR seems a bit too advanced for the marketing campaign. However, the effect of this innovative technology is solid if the preparation and implementation are done properly. We can surely say that AR/VR will scale and conquer new markets in the upcoming decade. Here's a prediction to back it up, by 2028, AR / VR / MR will reach $252B. We'll see!